COLLEAGUES FROM UKRAINE TELL HOW THEY ADAPTED TO THE REALITIES OF A FULL-SCALE WAR AND CONTINUE TO WORK
For more than a year of Russia's full-scale invasion of Ukraine, Ukrainians have demonstrated to the world that they are brave and unconquerable. Interestingly, according to the IT Ukraine Association, 70% of companies have specialists serving in the Armed Forces of Ukraine. It is also worth noting that the IT industry in Ukraine was the only one that managed to maintain positive development dynamics in 2022.
Our colleagues from Ukraine told us about how IT specialists adapted to the realities of war, terror, intense Russian missile attacks and the resulting long periods of power and mobile communication blackouts, and continued to work, implement projects, provide for themselves and their families, as well as pay taxes to the state budget, donate to the Armed Forces and charitable foundations.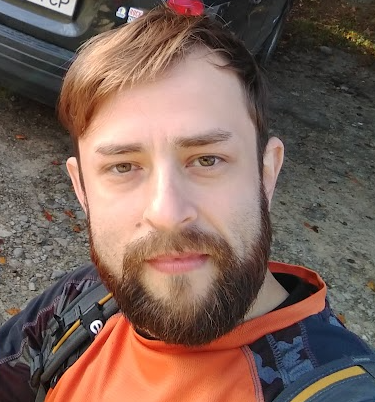 Valeriy – QA Test Lead
"We had a BCP (Business Continuation Plan), as every company does. But it was implemented differently in each company: some did it in advance, and some did it after the fact.
We left Kyiv for the west of Ukraine, to Lviv. Some left on their own, by car, while others were taken by bus. We were given the task of storing and transporting the equipment and preserving the project.
We were the first to leave, started looking for an office where we could stay, install equipment, and start testing processes. Then we began to gather people in Lviv who had left for western Ukraine, and some remained to work remotely. This was one of the first stages in the spring of 2022. Back then, there was still electricity and the Internet. We turned around without any problems, just regrouped.
When the first Russian missiles hit the energy infrastructure, we did not attach much importance to it because the Ukrainian energy system is very branched. But when the massive missile attacks on Ukraine began, we realized that we had to do something, because if there is no electricity and no Internet, we will not be able to work and deliver the product to our customer. So we developed a plan and quickly adapted. The Lviv office we rented was a great help to us because it had a large industrial diesel generator. All employees moved there and worked there. By that time, some of the people had already returned to our Kyiv office, which also had large industrial generators.
There was no transportation, taxis cost 2 thousand hryvnias (about 50 euros) per trip, but we had to work. We contacted and collected lists of people who worked remotely (200-300 km away from the office and unable to get there), identified risks if a person, for example, was out for a few days, and regrouped tasks that were performed by other people instead.
At the same time, we launched a voluntary and compulsory plan, asking our colleagues to start thinking about how to adapt to the situation: actively ordering power banks, charging stations, and generators for those who live in the private sector. People also bought starlinks and mobile routers. My volunteer friends from Poland sent me a generator directly. We have a technical project with a lot of technical people, so people started ordering batteries themselves and using the uninterruptible power supply to make sets for themselves, and for some time you have 220 V at home – like a bluetooth for the poor. Some people started ordering bluetooths and eco-flows, while others implemented such solutions by assembling everything themselves. Someone started implementing solutions to power the equipment, and someone went further, experimented and powered the entire apartment.
So it turned out not to be so scary, everything worked in the office and there were no collapses, because we reacted quickly and adapted quickly, and it turned out that we could work autonomously. And in the evening, everyone returned to their cold apartments.
Now everything is okay, the electricity is back, everything is stable. But we are ready, everyone has some kind of device that will provide a backup for electricity, many have a backup battery."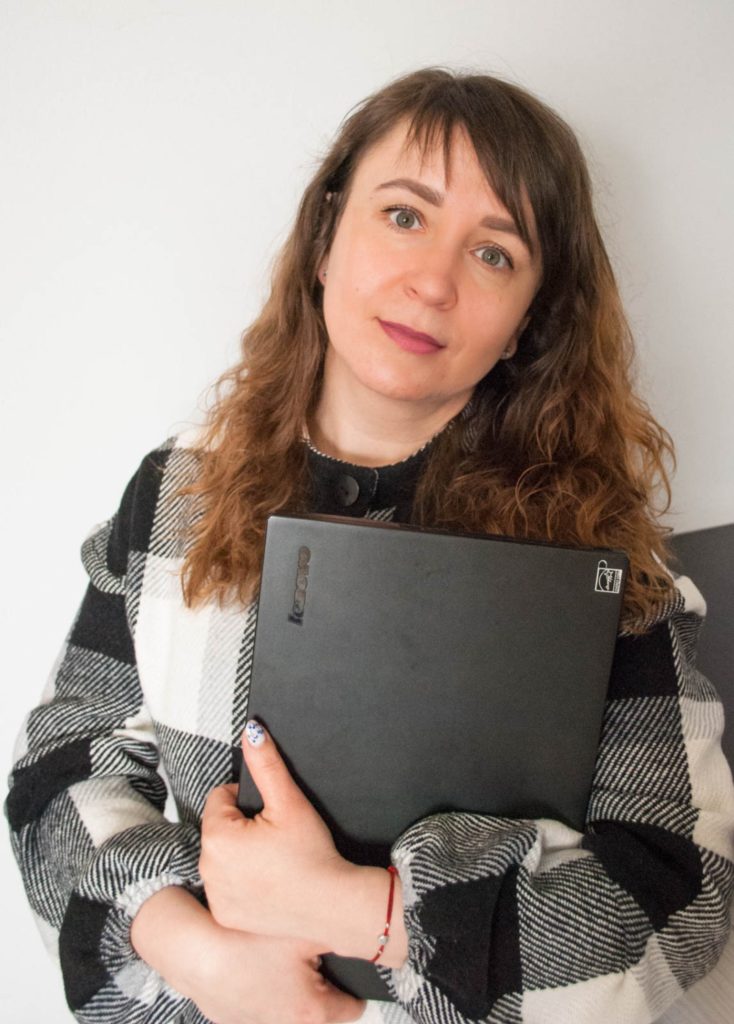 Lesya – Softwaretester:
"On February 24, we were all confused, we didn't understand whether we had to work or do something else, so we contacted our test lead and were instructed to take care of our safety that day and, so to speak, not go to work.
The rhythm of life has really changed since then, as I live near Kyiv. Our village is located 5 km from the district center (Bucha district), and although it was not occupied, Russian troops were quite close and were approaching, it was quite dangerous.
We evacuated by train with three children and my mother. Driving by car was already dangerous, it was impossible to refuel, it was unclear which road to take. So we went to Kyiv and from Kyiv by train. I won't describe all the so-called "beauty" of the evacuation stations, but I am grateful to all those people who worked there and helped. It brought me to tears when the train stopped in Khmelnytsky, people threw boxes of sandwiches and cookies in. It was so important at that moment, even though we had our own sandwiches, it was about support. I love Lviv very much, my family is from Lviv, but I was amazed at how they prepared, how they supported us – our people are incredible. On March 5, we were already in Poland. We came to our friends who took care of us, so we were not affected by the refugee problem, we went through this path quite easily.
Before Covid, we worked full time in the office, and during the pandemic we were sent home, and in fact, we have not gone to the office since then. All I needed to work was a laptop and the Internet, so the only time I wasn't working was on the road. As soon as we left, we opened our eyes and started working. We also supported each other morally and informationally with our colleagues.
Despite the fact that Kyiv region was de-occupied in the spring of 2022, we decided to spend the summer abroad. Because there was an opportunity to go outdoors, to a lake somewhere, and in the Kyiv region it was dangerous because there were still unexploded shells and so on.
Returning home was a difficult decision, it was very hard. It was postponed several times because of heavy shelling. But we wanted to go home, we wanted to be with our family, and so we returned on September 1, actually to go to school. In our residential complex, there is a shelter with light, water, and a toilet where you can sit through a rocket attack – this calmed me down. But we kept thinking that if something happened, we would get in the car and leave again.
When the shelling of the energy infrastructure began in the fall, no matter how hard we tried to shine from our inner light, it had a strong impact on our psychological state. We had to provide education for our children, keep up with our work, organize meals – it really took us out of shape mentally and physically, but we overcame it.
It was possible to work because the connection lasted for about five hours. Plus, we had the longest period without electricity – it was 46 hours, while on other days we had a two-for-six schedule, or at least two hours a day, which was enough to charge our equipment. We bought firewood, bought a cauldron, and stocked up on water. We had gas, and that made the situation much easier. Of course, we tried to stock up on batteries; the generator (to connect the boiler and power the equipment) appeared much later, in the fall, it was not yet available. My husband's company provided them with eco-flow, and we gave them each one, and I used it when the equipment was running out of power.
Our colleagues were scattered across Ukraine, working wherever they could. Those who could work worked, and those who couldn't work also worked, looking for options. There were also conditions to work in the office, everything was organized.
Thanks to the titanic work of the people, the blackout, which was talked about and warned about so much, never happened, and we got off with a fairly mild scare.
I would like to thank the Polish and German people for supporting our people in difficult times."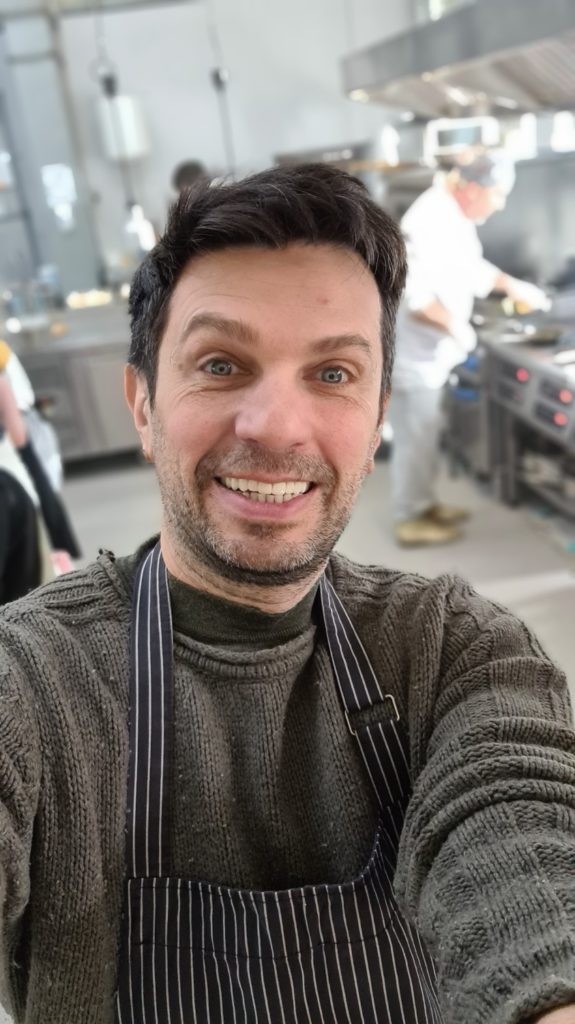 Vladislav, Chief Creative Officer:
"I returned to Ukraine just before the war. In the fall of 2021, I came to celebrate my birthday. I had a feeling of happiness. It was so cool, Kyiv was glowing with lights on New Year's Eve, everything was so beautiful: these cafes, shops, windows, the Christmas market in Podil, mulled wine…
We all watched the news and realized where it was going. I decided that I had to get ready somehow. I bought food that does not require electricity: stew, some canned and frozen vegetables, champagne, whiskey, rum – a bigger bottle, and to wash down with cola, tonic – everything you need. The courier brought it all at 9:30 p.m. on February 23. Before that, I was in the city, and the guy wanted to deposit the cash into a bank account, but he didn't have time, so I told him: "Give it to me, and I'll transfer it to your card right now." I brought the groceries, I had the cash, and I was sitting there thinking that if anything, I was prepared.
I went to bed, and at five in the morning my friend called me. I woke up and heard something banging, I thought I was sick of this garbage truck, I thought it was the truck that came and banged on those bins, and my friend called me: "The war has started…". My eyes opened at once, but it was unclear what to do with it all…
In the office chat, we wrote that "we are not going to work today, we are staying at home, watching what happens next," but it was clear that no one was going to. We were already half-remote at the time, and after that covid, everything remained the same. So at the beginning of the full-scale war, everything came to a standstill, no one worked.
About seven rockets came to my house in Lukianivka. I was lying in bed, and it was going off, my windows were going back and forth, back and forth. I looked up and saw nothing, so I kept lying there. And in the morning I saw that the frames had flown out, and there was a centimeter hole between the windowsill and the windows, but the glass held up, did not break.
My apartment is called the detention center bar because all the parties take place at my place and I live opposite the detention center. In the early days of the war, this place was a kind of island of peace, everyone was flocking to it… Three times I was offered to leave Kyiv, three times I refused, and then I sat down and thought that I shouldn't panic, because they wouldn't shoot at civilians, and I would see what would happen next. At that time we did not know what was happening in Bucha, Irpin…
Back in January, our holding company held a training session on how to pack an anxiety suitcase, on different levels of anxiety. The first is when you put only money and documents and run away; the second is when you take a backpack with documents, money, a toothbrush and underwear; and only the third is when you pack your suitcase, in which you put extra clothes, food, and what you can put in the trunk of a car, for example. Because you won't run away with a suitcase when your house collapses, you will run away with your documents. The training lasted about three hours, and I turned it off somewhere in the middle because I couldn't listen to it.
In the first days and weeks of the war, I was drawing very naive videos like "Stop the war", "Putin is a criminal", "Russian soldier, you are sent to die for expired rations", we thought we would reach them…
One day I was sitting drawing, and at that moment outside the window I heard "ta-da-da-da-da-da, ta-da-da-da-da" (automatic gunfire), and people were running around trying to catch saboteurs. Then I turned off my floor lamp, which was illuminating half the street, and realized it was time to pack my emergency backpack: nice T-shirts, nice socks and a thermos with an alarming whiskey, a toothbrush, toothpaste… Everything was as they said at the training: I packed my suitcase and my backpack, so that if I ran, I would grab my backpack right away, and if I was walking, I would grab my suitcase. I did this and calmed down.
And then I had a catharsis. You do nothing but watch the news. There is no end to this news, news, news, where everything is bad, bad, bad. My head is full of this news, Kyiv is almost surrounded, it's constantly banging, something is constantly flying, you're running to telegram channels and out the window, and you don't know what to do next, and I had this reboot. I was surprised by how my nervous system reacted to this, I thought I would panic, but it turned out that I have a very healthy nervous system. I came home one day, I was sitting in the dark, I didn't want to turn on the light, the clock was on, the numbers were glowing, I turned off the music, turned off the TV and sat in complete silence for an hour, two, three. I sat and looked at one point. And then somehow it cleared up, I felt better, and I didn't have any more hysterical panics, and then everything was sober.
And then my friend calls me and tells me: "What are you doing tomorrow?". And I said: "I'm going hiking from Lukianivka to Borshchahivka tomorrow, I'm bringing winter shoes to my friend, who is standing at a checkpoint in territorial defense and is freezing. I brought some nice boots from Germany. I'll leave in the morning, get there before lunch, and return in the afternoon." And he offered to come in the morning and take me there. Then he was going to go to open a kitchen in a restaurant to cook food for the terrorists, and he offered to help me, and I agreed. We arrived at the Khreshchatyk Hotel (but in those days you couldn't tell anyone where you were going, it was very secret, because you would "burn" the place), and we arrived at that kitchen, and the state of the kitchen was such that after the staff had fed the last guests who were in that hotel, they left everything as it was and left, and this kitchen stood in this state for a week and a half. Everything was dried up, moldy, smelly, and a new life had already begun there. So we began to wash it, to bring the kitchen to such a state that we could start doing something with it the next day. The next day, he brought his friend with him, he was the chef, the sous chef, and I was the dishwasher. That's how the vacation with this kitchen began. Then it seemed that we were running out of time, the number of portions was growing, we needed to hire some people, so we started looking for friends in Kyiv who were left. I called my girlfriend, she was afraid to walk from Podil to Khreshchatyk, so she came with her friend. We put them on potatoes and vegetables. Then we expanded. Each of our mornings started like this: we met at the edge of my yard, walked from Lukianivka on foot because there was no bus service, and stopped at all the grocery stores along the way. We took as much as we could carry. Here they brought cabbage, there carrots, some seasonings. We understood that the money we had before the war could turn into wrappers at any moment, and we could not say that we were saving it very much. We used our money to buy all the cabbage, onions, and meat. We used to walk to Khreshchatyk and drag these products to the kitchen. I then gave up painting roller skates and washed dishes. It was cool that when we went to "work" in the morning, all the checkpoints knew us. I could walk at eleven o'clock in the center of Kyiv, and my footprints were the only ones on the snow-covered road. And then people started to appear, and it was like you saw the same people along this Lukianivka-Kreschatyk road, and over time you started to greet them. I don't know who these people are, but I see them every day. I go somewhere, and they go somewhere.
And then my friends started going to the military registration and enlistment offices, to the front. And I was washing the dishes and thinking, I'm also running out of money, and what am I going to do tomorrow, not ask volunteers to help me because I'm dying of hunger? Washing dishes is good, but I need to do something more useful," I decided. At that time, there were fifteen people working in the kitchen, and I decided that it was time to go back to work, to take orders to earn money, pay taxes, and help the army and foundations. I had two areas under my care: my comrades fighting at the front, and my service station that repaired my Sir, they changed to cars, brought cars from Europe, completely repaired them, painted them in camouflage, and sent them to the front.
When the Russians switched to shelling power plants in the fall, I was helped out by a simple computerized UPS. When the power went out, the UPS beeped, and I knew it was giving me time to save myself so that the files wouldn't disappear. And then my boss in Germany ordered me an eco-flow and sent it here. This fancy thing allowed me to work on my computer for three hours, and if I turned off the computer, the ice lamp would stay on for eight hours. I gave my flashlight to a friend, bought a block of candles, and gave them to my friends and neighbors. It happened that my friends were walking past the house, shining their flashlights under their feet because they couldn't see anything, and the only window that shone on the whole of Degtyarivska was my floor lamp on the balcony. Everyone else was dark, but I was glowing – my boss gave me this fancy device. It was so cool, I didn't worry about anything at all. Only a couple of times there was no electricity for so long that even the eco-flow went out…"
I would like to take a moment to express my gratitude to each and every one of you who participated in this brief interview. Your time and input are greatly appreciated, and I am grateful for your willingness to share your thoughts and insights.
Your contributions have been invaluable in helping to shape and inform our understanding of the topic at hand, and I am truly grateful for the effort and thoughtfulness that each of you put into your responses.
Once again, thank you for your participation and for being a part of this important conversation. Your input has been invaluable, and I look forward to continuing to work together towards a better understanding of this important issue.
I Salute the Resilience of Ukrainian IT Professionals: Continuing to Work Despite Challenging Circumstances, with Hope for Better Days Ahead.
Thank You!