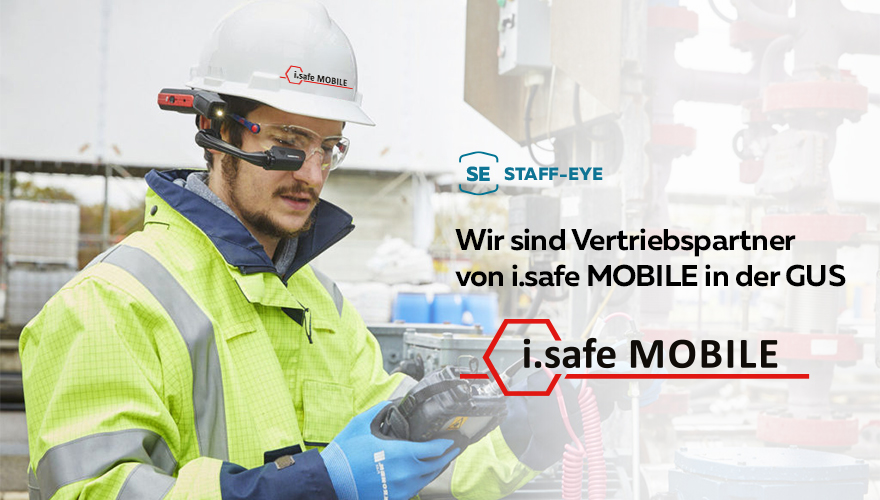 Staff-eye GmbH becomes distribution partner of i.safe MOBILE products in the CIS, Ukraine and Georgia
The offshore and marine industry is crucial to the world we live in. Thanks to this sector, we can use natural resources such as oil, gas and wind. Procuring these energy sources is not an easy task.
One particular innovation that will revolutionise the way the offshore and marine industry works is remote AR support.
In offshore work, the number of employees working on an oil rig or other site is limited. Ships and platforms can only accommodate a limited number of people and carry a limited load. The rest of the environment is water and lots of it.
With the support of AR software, experts in various fields can be present in digital form. An employee can connect wirelessly with a colleague at another location and ask for specific information.
This allows a versatile approach to the execution of tasks. Instead of having many specialised staff in one place, a more general technician can visit the site with live support from AR Remote.
With smart glasses such as the i.safe MOBILE HMT-1Z1, it is possible to remotely assist an employee with hands-free talking.
The expert can look at the situation from the first-person perspective and give the colleague important information. This can be a photo, a video, a manual or even live notes on the screen. This content is contextual, e.g. an arrow indicating the correct lever or operation required.
We Staff-eye GmbH already have experience in modern IT technologies for computer vision, augmented reality and the development of expert systems for training and remote support.
We want to offer our customers in the CIS countries, Ukraine and Georgia not only software solutions, but also innovative hardware that is operational under the most difficult conditions. We are pleased to have become the exclusive distribution partner of i.safe MOBILE from 01.01.2021.
i.safe MOBILE GmbH, based in Germany, was founded in 2011 and is today one of the world's leading and most innovative developers of mobile communication devices such as mobile phones, smartphones, tablet PCs etc. for safe use in hazardous areas and for robust use in industry and outdoors. Engineers and specialists at the German site develop practice-oriented products and individual, customer-specific software solutions based on legal regulations such as ATEX, IECEx. NEC 500 and EAC. The i.safe MOBILE development team incorporates all international standards into product development and is itself an active member of the relevant standardization committees. In order to meet all explosion protection requirements, the products are developed from scratch. This gives customers worldwide the certainty of using high-quality communication technology at the latest technical level. In addition, i.safe MOBILE cooperates with solution providers in the areas of push-to-talk, mobile device management, maintenance software or lone worker in order to be able to offer complete solutions from a single source.
"We have been working with German technology industries for a long time and always aim to offer and make available "best practices". With the i.safe MOBILE products, we are expanding our existing portfolio and want to open up further areas", says Alexander Kovalenko, CEO of Staff-eye GmbH.
"We are proud to have a partner who knows the markets in the CIS, Ukraine and Georgia and has extensive experience. We look forward to a successful partnership. The Eastern European market is particularly important for us. With the distribution partnership, we are taking another important step in our global market development", says Martin Haaf, CEO of i.safe MOBILE.